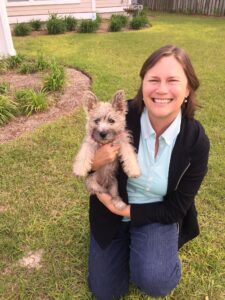 Hi, I'm Lainie Johnston, certified Wilmington dog trainer and puppy trainer.
I believe puppy training should be tailored to your life and your individual dog.  My specialty is force-free dog training for those looking for one-on-one attention in your pet's daily living environment.   While I can certainly help you teach your dog to sit or stay, my greater goal is to show you how to communicate with your dog. Communicating in a positive way allows you to teach your dog anything and build a stronger relationship based on mutual respect and trust. This is particularly important in homes with children and dogs.
At the end of the day when you think about it, pets are no different than people. We're just talking about treating our pets the same way we would like to be treated if the roles were reversed. You can be scolded and forced into doing something, but it's a much better overall relationship to be treated with respect and love while being rewarded during the learning and training process. The result is a much better bond with your pet and a much more "Pawsitive" overall experience. If this sounds like the puppy training experience you'd like for your new pet, I'd love to be your Wilmington dog trainer. Contact me at your earliest convenience to get started today!
---
About Lainie
I'm a graduate of Catch Canine Trainers Academy, a state-licensed, 10-phase course in dog behavior and training which includes hands-on training, behavior fieldwork, mentor evaluations and written exams.  I am also licensed with the internationally recognized Family Paws Parent Education Program to offer professional support and guidance for pet-parents becoming baby-parents with a pet.  The two international parent education programs specialize in dog and baby/toddler dynamics.
As a proud member of the Pet Professional Guild I follow the Humane Hierarchy.
You can teach an old dog new tricks and raise a new puppy to be a happy confident companion.  I look forward to meeting you and making sure the relationship between you and your pet is a Pawsitive one!
Lainie Johnston  (910) 228-9184
---
Administrative Assistant